Riverbeta



Creator

Ari Ronen

Release Date

July 26, 2013

Genre

Landscape
Riverbeta
is a World created by
Ari Ronen
. He released it to test out the new
Terrain Generator
, and to show off the new River Biome. It has continuous landscape, filled with hills, trees, and rivers.
Trivia
It's large expanse causes the world to take up a massive 1 GB.
Holes filled with water are scattered around suggesting that its also a wetland type biome.
The preview shows a dark purple sky, but the sky is not painted in the actual world.
In most pockets of the world there's no bedrock allowing the player to dig straight down and fall resulting in him/her popping back up to the surface.
Gallery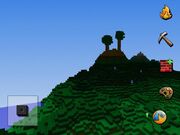 Ad blocker interference detected!
Wikia is a free-to-use site that makes money from advertising. We have a modified experience for viewers using ad blockers

Wikia is not accessible if you've made further modifications. Remove the custom ad blocker rule(s) and the page will load as expected.