Plain

The Plain Block

Type:

Unnatural

Ramp Variant:

No

Flammable:

No

Destructible:

Yes

Placeable:

Yes

Animated:

No

Special Feature:

Casts no shadow and resembles a cloud block

First Appearance:

Version 1.0
The Plain Block (Also known as the Cloud Block) is the simplest block in Eden because is it entirely blank, and is usually used to make large painings and to show off shadows. Users often make pixelated drawings or designs out of Plain Blocks. Plain Blocks are mainly used for decoration, bland buildings, or as a block that's good as a different color.
Trivia
If you have any block equipped and click a creature, a Moof will show up in the plain block area. The plain block will be the color of the block you are using. If selected, you can place it anywhere.
Analysis of the internal data format (see this blog article) shows that in Eden version 1.7, Plain blocks are the same as Cloud blocks.
Placing any block over these blocks change its tone to a gray hue due to shadows. This also applies to all other blocks, but this is the block where it is most prominent, especially when it is white. However, as shown in the photo below, Cloud blocks themselves do not cast a shadow on other blocks.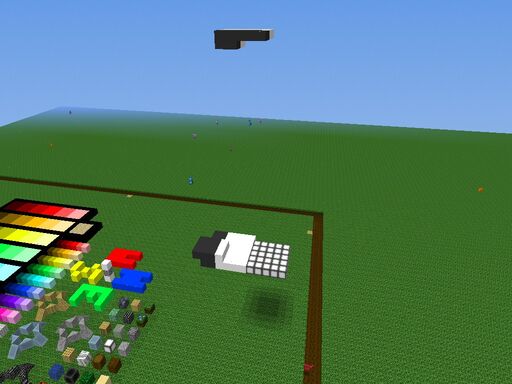 The "plain" block (used in clouds) does not cast a shadow, regardless of its height ("altitude") or whether it's been painted.
Ad blocker interference detected!
Wikia is a free-to-use site that makes money from advertising. We have a modified experience for viewers using ad blockers

Wikia is not accessible if you've made further modifications. Remove the custom ad blocker rule(s) and the page will load as expected.