MB City is an under-development world created in 2012 by Martin L.
MB City does not welcome population yet, because it does not have needed infrastructures to welcome people.
History
The first 2 years, I, Martin, was slowly building. Originally, I wasn't building a city, I was only following my imagination and the world had no name !
Between 2015 and early 2017, construction stopped. Indeed, I didn't have time to build.
In late 2017, I was building little by little, and MB started to look like a city, not a messy grouping of blocks.
And since June 2018, I am working hard on MB, that now looks like a City.
But, what does "MB" mean ?
An old friend named Brice, wanted to build in my world too. I created his part of the world (everything outside the river. Originally, I thought that size sufficient).
MB is the two initials of our names : M stands for Martin and B for Brice.
But, I lost contact with Brice, and he never built in my world. I decided to keep that name because I don't hate it. However, if you have suggestions for a new name, feel free !
How to get news or give ideas/feedbacks from the world ?
You can see news from MB City or give feedbacks at the Eden Discord server (discord.gg/fJae5at), I have a channel : #mb-city ! You can also get leaks for the next versions of MB City !
CITY NEWS
I am going to introduce a 'City News' system. Whenever I have made a change, it will be referenced here as a News article. There can always be exceptions when I want to keep a change secret :)
Wednesday, September 19th, 13:54 (1:54 pm) :
The city has announced that the airport will not be finished before October 3rd. Indeed, there is still a lot of works :
-1 of 2 boarding hall is not ready, but the city announces that it won't disturb the first flights.
-Tarmac is not built yet. That includes the runway, obviously needed for an airport.
In conclusion : The airport will not be ready the October 3rd. The estimated opening date is October 18th. However, to apologize, the city will be doing a firework on the airport, and it will be opened so medias, future employees and curious people can visit it.
Also, the city is very proud of its bagages transport system, at the first level of the boarding halls.
Friday, September 14th, 18:06 (6:06 pm) :
Poll has ended ! 2 votes for the house to be fully renovated and 1 vote for being tore down.
You have taken the decision ! The works on Brice's house just started, the crane has already been built.
The city haven't communicated blueprints for the future of the house. When more informations will be communicated, an article will be wrote here.
Wednesday, September 5th,15:30 (3:30 pm) : The city has voted unanimously for the Brice's house to be closed, even before the owner could move in.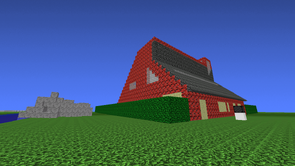 The reason is that the works started in 2014 and was finished the same year, but since then the house had known few renovations, including one that added a water toboggan but this one was not autorized by the city because the pool is not as deep as needed for that kind of toboggans.
Also, one wall risks to collapse because of water damages.
The city has to decide if this house has to be tore down or fully renovated from ground to roof. Please vote here :
Thanks for your participation ! :)
Next version changes
The current version of MB City is 4'1. Here are the major changes for V5 !
-Airport ! It is the biggest building of the world ! The metro station has been created too !
-Highway rest area created
-TF1 tower fully renovated
-River finished !
-A surprise... keep informed to discover it ! This is the biggest MB City update from its start ! THANK YOU FOR YOUR SUPPORT ! <3