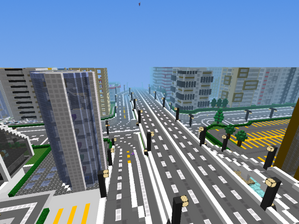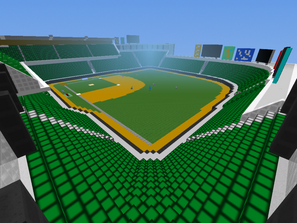 Main information
Frabanta is a city built by Santiago Hidalgo (santiafo), its located in Santiland nation and it has been growing since August 2012. However the first version aviable was finally uploaded in April 2017. The city is located in the coast and has a fresh climate. It is currently divided in 19 sectors. The city has been always developing, giving like this all the things a metropolis should have, all the wants and needs.
History
Building history
When the city started it was meant to be a little town with some houses, all this changed when the first airport was built, this led to many changes where the city started to form and expand in North, West and East direction, later in the South the coastline.this airport was located in the Perula sector but nowadays in the original place where it was its a park with convention center, and next to this the private plane airport. the international airport was by 2014 removed to the West of Frabanta where it has been modified or expanded 4 times, with the latest expansion in April 2017. The city was facing big expansions so the Highway systems appeared, later subway systems, bus stations and the airport mentioned above. Thanks to this advancements the city expanded having as a result downtown areas, residential areas, commercial areas and luxury areas.
Fictional history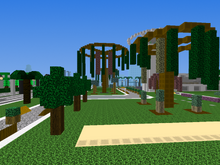 The original expansion place was meant to be at the south of the current international airport, but Spanish people arrived in sailboats and did an invasion there with bombings, but some finally changed their mind and stayed in this prosperous land and lived peacefully with people who survived and resided here, then the inhabitants of this destroyed place which used to be called Historica moved to the east, here a town was built where currently is located a part of Perula and East beach, for many time it remained as a small town with basic needs and wasn't so developed, then was discovered all surrounding areas had hidden resources, which led to the rising of Frabanta with the first airport (used to be located in the south of Perula) and the
name of this airport was called "Mariscal Sucre" (it exists in real life in my hometown!). With this the first building was made, the Citybank, but at first it was just a small city with many small houses and few buildings, no sidewalks nor much to do. Thanks to the aviable resources more technology came with more development, suddenly it started looking as an advanced city, houses and apartments started to appear shaping the town along with the rise of more buildings, making like this a sustainable city with development to how its known today.
Flag
The flag of Frabanta was made along with Frabanta representations and characteristics, having like this a flag with colors:
Turquoise: represents the water and the actual peace this city has, represents also union.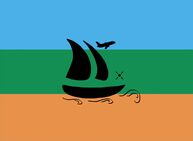 Green: represents nature, looking forward to a green city
Orange: represents sacrifices and power
This flag has also a simble inside the flag, this symbol is a sailboat(represents transportation in which more people came in the past to Frabanta), an airplane(transportation which led to more development), point with lines in X form(MIDO logo, represents technology as it has helped the city to be greener).
Frabanta future
The city is projected to grow even more, some plans for the future of frabanta among many are:
A marine port station
If height limit is increased skyscrapers
more residential and comercial sectors
parks
Transportation
Roads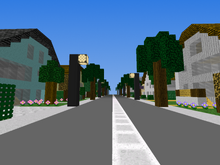 *the measurement on blocks of roads doesn't count with the measure of sidewalks or borders included.
Highway
This roads are all over Frabanta, their wide vary from 11 blocks(4 lanes), 17 blocks(6 lanes), 23 blocks(8 lanes), and the biggest one which is divided in four parts a total 29 blocks (10 lanes). they are conected with each other and some avenues with road exchangers, found in intersections.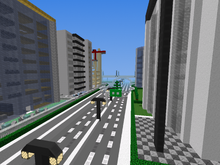 Avenue
These are the principal roads among neighbourhoods and are normally 12 or 13 blocks wide(4 lanes) and the middle space is always 2 blocks and of grass or yellow, the only exeption is the Main avenue across The palms and Spiros which has 3 blocks separation.
Simple road
A road 5 blocks wide found among all the city.
Normal road
A road 9 blocks wide found usually in residential areas and downtown areas, this road has space at the sides for parkings. The sidewalks are 2 blocks wide and sometimes have a separation of grass between the road and the sidewalk.
Luxury road
A road found just in luxury sectors which is 7 blocks wide and the sidewalks are 2 blocks wide counting with a grass separation from the streets.
Airports
Pacaras intl airport
This is the principal airport of Frabanta, has 3 landing/takeoff tracks, 3 terminals with 44 boarding birdges, cargo terminal, and essentials as car rentals, catering terminal, hangar, energy plants, firefighters and control tower.
Anotya airport
This airport is destinated to private plane flights and flight school, its a smaller airport which occupies an space which was once part of Mariscal Sucre airport, it has 1 landing/takeoff track, control tower, flight school, hangars and a small terminal for the private jet flights.
Subway
The subway system is in constant expansion, it currently counts with 12 stations (some of them connecting lines). This stations are distributed in line, these lines are: Blue line, Orange line, Purple line, and soon a new Green line will be opening as a result of city growth. All this subway stations have the same standards.
Maps
City map
Subway map
scroll down a little bit when entering the link to see subway map.
Sectors map
Same link of subway map, the first map appearing is the sectors map.
Main Iconic or Big buildings
| Name | Information | Aprox date completed |
| --- | --- | --- |
| Millenium park | Located in south perula, here was the airport before and now its a park with convention center. | January 10, 2016 |
| Gavilanes park | The smallest park between the main ones, located in the old downtown area known as Midantha. | October 2014 |
| Green light park | A big park located in western Pretoria, with volley fields and a tiny botanic garden. | July 15, 2015 |
| Spears square | The only of many small parks or plazas catalogued as iconic due to the fact it is a meeting point of southern luxury sectors, it also has restaurants and a few stores around it. | June 24, 2016 |
| Union square | Inspired in Times square but different form and heights, turning to the central point of downtown, its surrounded by massive billboards and stores like: Apple store, Forever 21, Mac donalds, Taco bell, among many others. located in Town center. | December 21, 2016 |
| Estadio Santiago | A soccer stadium in East beach, modified once. | June 7, 2015 |
| Tennis stadium | Originally a small soccer stadium but turned into a tennis court, located in Perula | October 2012 |
| Pragoria baseball field | Currently the biggest stadium in Frabanta, located in Pragoria. | August 4, 2016 |
| Crockers mall | Remodelated on August 1st, 2014. the biggest mall. Was originally called "Scala mall" an inspiration of a real mall. Located in Midantha. | 2013 |
| Kau mall | The first mall of Frabanta, located in the east of Midantha. | 2013 |
| Aqua mall | it was a big mall with its own sports club and had Ice court, convention center , cinema, bowling and a big food court. originally completed in 2014 but demolished because it had terrible distribuition and a very simple design. Rebuilt as a smaller mall with open spaces. Located in northern Midantha. | May 21, 2015 |
| Antoya airport | A part from this airport was once from "Mariscal Sucre" airport but now it remains as an airport for flight academy and private jets.Located in Spiros. | February 2016 |
| Pacaras international airport | This huge airport was the solution to the airport which was known as "Mariscal Sucre" as a result of the city growth. has been expanded 4 times, the last one on April 12, 2017. It has 44 boarding bridges distrubuted in 3 terminals, 2 parkings, 1 control tower, 2 cargo docks, 1 hangar, 2 energy plants, 1 catering terminal, Mall, Firerfighters headquarters, 6 car rentals, car energy station, 3 landing/takeoff tracks and 12 taxiways. | November 9, 2014 |
| Spiros yatch club | A club with Pool, main building and docks for Yatchs, exclusive for elite members. Located in Spiros. | December 2016 |
| Diora country club | The first exclusive country club, located in West Palms inside a private housing development. with commodities such as: pools, humid areas, even rooms, restaurant, gym, tennis, horse court, soccer field and squash. | June 20, 2014 |
| Joanne country club | Exclusive country club in The palms, inside a small private housing development. It counts with: golf fields, pools, humid areas, events room, tennis, gym, restaurant. | February 2016 |
| Perry club | The first club in Frabanta, with a hotel included. It has a main building with things like restaurant and humid areas, pools, tennis, and the hotel inside it. | December 2012 |
| Terragea school | A school located in Spiros. before it used to be in East beach but it was moved to Spiros as East beach grew. | December 2016 |
| Palmeria school | The "best" school, for Frabanta's elite, located in The palms. | June 29, 2016 |
| Pino creek school | One of the biggest in Frabanta, located in West palms was the first school of Frabanta, has the biggest coliseum of schools. | December 2012 |
| The Aquila school | The biggest school, has 5 coliseums (multi sports, swimming, tennis, squash, theater). Located in Pretoria | April 29, 2014 |
| Tegulpa school | The smallest school, located in Greenlands. | 2016 |
| FIU (Frabanta international university) | The university of Frabanta with 10 faculties with many careers.Located in Unicity | April 2015 |
| Ditadura recidence | This was the governors recidence and its still Frabantas main administration building. currently it has no governor as the nations system has no head of state to achieve a semi utopic society. Located in western Unicity | 2013 |
| MIDO sci-spatial center | A building dedicated to science and bringing new technology advancements, here was unveiled the new energy source for all sort of vehicles and efficient solar energy among many others. Located in Gold Gardens | January 2016 |
Destroyed or replaced buildings
Soon a list
Ad blocker interference detected!
Wikia is a free-to-use site that makes money from advertising. We have a modified experience for viewers using ad blockers

Wikia is not accessible if you've made further modifications. Remove the custom ad blocker rule(s) and the page will load as expected.