Countryside Village is a new Eden World, it is set in the normal terrian, which makes it look far better than if it was on a Flat World. The village contains of buildings, places, houses, a beach and loads of awesome secrets!
Some of the buildings are The Mine Shack, The Shop, The Sports Shop, The Coffee Shop, The Dance Club, The Pet Shop and The Pub. Please take a look at Countryside Village, and maybe even edit it with your own ideas!
Coming Soon:
New Dojo
Shop Renovation
Possible Sport Shop Updates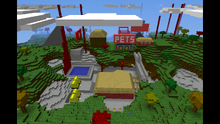 Ad blocker interference detected!
Wikia is a free-to-use site that makes money from advertising. We have a modified experience for viewers using ad blockers

Wikia is not accessible if you've made further modifications. Remove the custom ad blocker rule(s) and the page will load as expected.